The best outdoor climbing toys for toddlers play a key role in the development of children's motor skills and coordination. Most enjoy walking along low walls and overhangs, balancing on fallen logs, or climbing anything to get a better view of the world.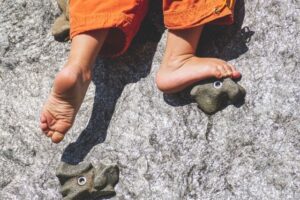 In case you want to get them off the dining table or climb at countertop levels to reach the top of the fridge, outdoor climbing toys can well use much of that energy. The following review focuses on the best outdoor climbing toys for toddlers.
Best outdoor climbers for toddler – Reviews
Ekomx foldable triangle climbing ladder comes with a double-sided ramp, one of its sides for sliding and the other one for climbing.
The ramp angle and that of the ladder can freely be adjusted, giving children different inclines and playing difficulties. These inclines assist in excising children's coordination and balance.
Stable triangular construction, metal connection, and bottom buckle assist in preventing climbing ladders from shaking.
The strong and long-lasting natural wood can support loads of up to 132 pounds and is therefore ideal for toddlers and children aged between 6 months and 6 years.
The surface is coated with CPSC-certified water-based paints and varnishes, which are environmentally friendly and safe. The paint's quality ensures the kid's health is well protected when playing.
The surface is flat and smooth, without burrs, so the baby doesn't get hurt or bruised.
The climbing ladders come with clear guidelines and instructions, and installation takes just a few minutes. Thanks to the foldable design, the triangular ladder can be moved easily, and storing it only requires a small space.
The feature of flexibility and ease of folding without removing any parts make it easy to store when you are packaging from camping.
However, it is advisable to place a blanket under the ladder to protect the children from falling.
Pros
✅ This toy allows climbing and sliding
✅ The finishing is environmentally friendly
Cons
X You will need to place a blanket underneath to prevent falls
Learn More from BestToyLine: Best Toys For Babies Learning To Stand
Also Check: Best Metal Tricycle For Toddlers
Bestway H2OGO Beachfront Bonanza is a big inflatable water park with a length of approximately 15 feet, a width of 10 feet, and a height of 9 feet.
This climbing toy is designed for children of 5 years and above and can support up to 120lbs per child and up to 600 pounds in total, making it ideal for children of a wide array of ages.
The polyester PVC coating that is double-stitched is used in its construction, making this climbing toy long-lasting reliable.
This package contains 1 water park slide, 1 fan including the stakes, 1 repair kit with various patches, 1 storage box, 1 water spray hose, and 9 bouncer stakes.
The many accessories ensure you do not require buying additional equipment to use the toy. The only drawback here is the high likelihood of hole forming after a few uses because the thread holding everything together is easy to break.
Pros
✅  This climbing toy has an impressive maximum load capacity
✅ Bestway H2OGO is long-lasting and sturdy
Cons
X The securing thread breaks easily
3. Best slackline outdoor climber for toddlers – Xiapia Saucer Tree Swing
Xiapia Saucer Tree Swing comes packaged for children's outdoor fun and enhancing development.
The package comes with 13 strap buckles, 2 tree protectors and delta rings, 55 feet slackline with double gear ratchets, 9 hanging attachments including 2 gymnastic rings, 3 first holds, 1 ladder, and 1 swing seat 2 monkey bars, and a carrying bag.
This climbing toy has a sturdy ACX heavy-duty slackline and long-lasting accessories that keep your kids safe when challenging the obstacle course.
The design is easy and convenient to install, and each attachment can support up to 440lbs and the slackline a total of 2,000lbs, which is sufficient for two or more children at the same time.
You only need to keep this toy in a carry bag and in the luggage room for summer camps, parties, and beach trips. You should tighten the ratchet as firmly as possible to prevent sagging.
With a customizable design and easy installation, Xiapia Saucer Tree Swing accessories can be rearranged differently for infinite versatility and unlimited fun.
Xiapia Saucer Tree Swing features a heavy-duty of 250lbs, children aged 3 years can use these long-lasting ninja rings as backyard training gear for worry-free and safe outdoor fun.
Pros
✅ Installing Xiapia Saucer Tree Swing is easy
✅ These toddler climbing toys are versatile, offering different plays in one set
Cons
X Failure to tighten the ratchet firmly makes it sag
Lifetime Geometric Dome Climber is a 4.5 feet high by 9 feet wide free-standing climber. This climbing toy comes with real rock climbing handles and sturdy powder-coated steel construction.
The Lifetime Geometric Dome Climber is UV resistant, which makes it durable and has the ability of color maintenance even in the scorching sun.
The lifetime climbing dome is ideal for children aged 2-10 years and a great choice for adventure and outdoor fun.
The rock climbing grips assist your kids in developing coordination and strong muscles during play. In addition, this toy is robust and lightweight and can be moved by one person during lawn mowing.
The only downside is that assembling and putting the shapes together in a given order requires two people, failure which can result in an error that can make you restart the process.
This can be a time-consuming and very difficult process.
This climbing toy has high-quality paint that does not come off over time, even on the rough play. Rock climbing holders also prevent these parts from being scratched while climbing.
Pros
✅   Lifetime Geometric Dome maintains its paint even in the hot sun
✅  The grips enhance motor coordination
Cons
X The assembling process can be time-consuming
Eezy Peezy Monkey Bars is a climbing toy that features interlocking plastic tubes and self-locking double spring connectors. The Eezy Peezy is designed with high-quality plastic reinforced with UV protection, which ensures long-lasting outdoor play.
When assembled, the Monster Monkey Bar climbing tower measures 70.07 x 65.53 x 46.65 inches offering a large playing space for outdoor use. This toy is ideal for kids of 3-8 years of age.
The easy-to-assemble and lightweight nature makes it convenient to move around, so the child will always have a favorite toy. The risk of tipping over is eliminated by the wide base and therefore does not require anchors.
The outer design is freeze and heat resistant, for the plastic cannot overheat in the sun or crack during cold weather. However, the base connectors must be protected from water, even if rain or snow will not rust the plastic tubes.
Eezy Peezy Monkey Bars improve children's fine motor skills, their ability to position hands and feet without looking.
This climbing toy cannot be used if there are parts missing or poor assembling, making its biggest downside.
Pros
✅ Eezy Peezy Monkey Bars climbing toy cannot tip over
✅ The weather-resistant design makes it durable
Cons
X You cannot use this climbing toy if there are missing parts
6. Best jungle gym outdoor climbing toy for toddlers – TP Toys Explorer
TP Explorer climbing set is built for children ages 3-12 and weighs up to 220 lbs. This climbing tower grows with your kids and is a perfect match for any playground or backyard.
At its full height, it is 82.5 inches long, a platform of 47 inches high and 82 inches of base diameter.
The low height is 53.5 inches long, with a platform height of 22 inches and 66.5 inches base diameter. TP Explorer has all-around viewing windows to check out when the kids finally get to the top and roll-up doors to keep intruders out of the fun.
The fort floor is a fun printed game mat with an explorer design. To ensure safety, TP Explorer toy is equipped with a high-quality galvanized steel frame, polyester canopy, and mesh vinyl platform.
For the toy to fit in small grounds, external dimensions of 47.6 x 13.4 x 4.3 inches are relatively small.
Furthermore, the parts are easy to assemble and separate. Although this climbing tower is sturdy and difficult to tip over, it shakes at times under intense use and for heavier babies.
Pros
✅ TP Explorer can serve your kids for years
✅ The children can be able to keep off intruders
Cons
X This climbing toy sometimes shakes
7. Best outdoor tree climbing toy for babies – Artoflifer Junior Ninja
Artoflifer Junior Ninja is built for girls and boys from 3 years and above under the supervision of an adult. Artoflifer has 15 beautiful climbing rocks, all made of very strong plastic for many years of use.
This climbing toy also comes with 6 sets of steel ratchets and weatherproof straps, making it ideal for outdoor activities.
The rocks are connected to a strap and secured with removable, easy-to-install ratchets.
The holder is made of HDPE plastic to offer a firm surface. This tree climber features children's climbing rope and a carrying case for easy storage purposes. However, the straps are a bit short for large trees.
Pros
✅ The weatherproof design makes it ideal for outdoor use
✅ Artoflifer Junior Ninja is easy to store and carry
Cons
X The straps are short for larger trees
 View on Amazon
Genetic Los Angeles Ninja Slackline has a wonderful design that will make a child brave. The Genetic Los Angeles Ninja Slackline is built for children above 5 years of age.
The upper ninja line can hang various obstacles, and the lower one can be used for balance training to promote coordination and balance.
This climbing toy can be used in many games and sets of playing and matching, even though it is one package.
The Los Angeles Ninja Genetic Slackline is made of very strong and long-lasting ratchet and slack bands, which contributes to its reliability and durability.
The Genetic Los Angeles Ninja Slackline can hold up to 440 pounds, making it ideal for even heavier kids aged 5 years and above.
This toy contains 2 7.1-inch ratchet straps, 2 60 feet slack belts, 1 rope disc, 3 steel fitness rings 2 monkey pole support, 2 rings, 1 swing, 1 climbing net, 1 pulley, 15 hooks, 1 balance belt, 15 shackles, 1 free carrying case and 4 tree coats.
All you require is 2 trees, beams, and columns that are 20 to 50 feet apart and hold at least 2,200 pounds. You can set up the toy in your backyard, a gym, a playground, a swimming pool, a basement, and it is a good option for camping.
The distance to the obstacle can be altered. You can change the spacing and installation order based on competition and the child's age, challenging the child in varying ways.
However, children are encouraged to play one at a time. Otherwise, you will find out that the slackline is being pulled very low.
Pros
✅ Genetic Los Angeles Ninja Slackline is versatile and offers varying plays
✅ You can change the distance to the obstacle
Cons
X If many children play at the same time, the slackline can be pulled very low
9. Best outdoor rock climbing toy for preschoolers –  

Jungle Gym Kingdom Rock
Installing the Jungle Gym Kingdom Rock is very easy as it can hold your child's climbing wall as long as you follow the instructions; the bolts, washers, and nuts installation guidelines.
This set of 25 different climbing walls is made of high quality, durable plastic, specially built for outdoor weather situations.
This climbing wall features 3 unique shapes and 5 amazing colors: green, blue, orange, yellow, and red.
The package also contains 2 completely pre-assembled swings, 4 snap hooks, and a 66-inch chain attached.
The dimensions of 11.5 x 9.3 x 5.4 inches are small enough for easy storage. Plus, 7.87 pounds weight is lightweight enough to be carried anywhere.
However, the bolts offered are too short and do not go through the 5/4 board, which is the standard decking board.
Pros
✅ This climbing toy for preschoolers is ideal for outdoor conditions
✅ The exterior dimensions are ideal for storage
Cons
X Jungle Gym Kingdom Rock comes with short bolts
10. Best outdoor climber toy for many children – Kids Dome Climber
The Kids Dome Climber is a sturdy powder-coated steel toy in an inventive geometric frame that can hold up to 350 lbs.
The versatility ensures the children are not limited on the games they can play, increasing their self-confidence, strengthening their muscles, and increasing agility.
With rust and weather-resistant surface, this climbing toy will last your kids for years. This climber has smooth metal handrails, round plastic knobs, deep chute sides, and absolutely safe climbing tubes for the little ones.
The lead-free material meets ASTM safety standards for increased child safety. This domed climber promotes a wider range of motor skills than traditional slides or climbers, adding to the endless thrill of the slide.
However, ensure you look for someone who is strong and tall enough to prevent parts from falling on your baby's head or legs when assembling it.
In addition, the slide is quite low, and the angle is not too steep, which prevents the child from slipping down quickly.
Pros
✅ The rust resistance surfaces can last for years
✅ Kids Dome Climber has an impressive load capacity
Cons
X The slide angle is low
11. Best multifunctional outdoor climbing toy for many children – Costzon 4-in-1 Slide
Costzon 4 in 1 Slide is a multipurpose sports center that is equipped with a climbing slide, telescope toys, basketball hoops, ladders, and football goal that allows your child to know how to throw, play soccer, and learn other skills.
This climber can train a child's ability to coordinate and develop a thirst for adventure. This climbing toy can be used outdoors and indoors and is one of the best gifts for children.
The children's slide is made of non-toxic HDPE material that does not break or change easily and is also environmentally friendly.
The robust construction and high load-bearing capacity allow the baby to play without worries or the need for adult supervision.
The castle's elevated railing immediately arouses the interest of children and also ensures the children do not fall over.
The ladder has a deeper structure that prevents the child from slipping. Plus, the smooth, rounded corners tender the baby's sensitive hands from getting hurt.
The large waiting area provides the baby with an excellent movement area in which children can turn around easily.
The slide path is scientifically designed so that the child slides naturally along the centerline of the slide. The structure of the buffer zone increases the shock absorption force and prevents the baby from being hurt.
Although the slide rail is secured to the basket with screws, there are no pre-drilled holes for the screws that line up with the slide rail or table.
Pros
✅ This climbing toy can be used by many children at the same time
✅ The waiting area is ample for children turning convenience
Cons
X There are no screw pre-drilled holes
Features to Consider in Climbing Toys for Kids – Buying Guide
While outdoor climbing toys are designed to make your baby agile, all are not built the same. Here are the various features to consider when shopping for one.
1. Recommended age
Thanks to the numerous options, climbing toys are available in different sizes and designs and can be adapted to different age groups.
In general, the difficult climbing level of older children is not suitable for younger toddlers, and conversely, a small toy is not suitable for 4 or 5-year-olds.
In addition, the manufacturers' recommended age is also the result of their research based on considerations other than size.
Each toy has its own level of development for a specific age group. So choose the toys that best suit your children's ages so that they develop better.
2. Size
Each climbing toy can only support a certain weight range. The maximum load capacity the toy can carry is generally based on the manufacturer. This is an important factor in protecting your children, so do not forget about it.
While a small, lightweight toy may be suitable for babies and toddlers, it cannot hold the weight of older kids.
The best climbing toys for kids are those that support the weight of your kids and even their age-mate friends.
In some cases, the size of the toy can affect whether parents can place it in the backyard or even carry it when camping.
3. Materials
The climbing toy can be constructed of varying materials. Some are made from soft foam, ideal for babies and young children, while others are made from durable steel or plastic for transporting older children.
Choose the toy among the most suitable materials for your children. If your kids are young and like climbing around, choose low-lying climbing toys with excellent safety features.
When your kids are older, especially if they want to play outdoors, get one made of sturdy plastic or steel.
In the case of plastic or steel, however, other safety factors, such as resistance to oxidation or the high-quality certificate of the plastic used, should be considered more closely.
No one wants a toxic plastic children's toy or a rusty climbing toy that can cause injury.
4. Additional features
A climbing toy can have additional features apart from climbing. Some toys are multifunctional, so kids can have fun in addition to climbing.
Some toys have a slide and mini-ladder that small children can use to climb and slide. Others have tunnels and caves to hide for moments or a basketball hoop.
There is a wide range of options, and all you have to do is choose the best climbing toy for kids based on your child's preferences or versatility to improve their overall skills.
5. Number of children
You can calculate if your child is too much for the climber by adding up your child's weights and comparing the total weight to the specified maximum carrying capacity.
Keep in mind that, as with most companies, manufacturers or sellers may be overly generous with the maximum load capacity of the climbing toy, but in a real sense, maybe less.
It is therefore advisable to purchase climbing toys with a higher maximum load capacity than what you really need.
Learn More from BestToyLine: Best Development Toys For Infants
Also Check: How Many Toys Should A Child Have
Frequently Asked Questions
Why is climbing important for toddlers?
Climbing is important for children as it improves mobility, increases muscle strength, helps improve courage, and increases endurance.
It's a great alternative to exercise for children. However, you should control the climbing depending on the child's prior climbing exercises and age.
Are the dome climbers safe?
Dome climbers are safe because of their wide base, preventing them from tipping over, shaking hard, or even sliding.
Also, the dome climbers are hard to raise them from the ground, ensuring safety even when many children are playing around the area since they cannot tip the climbers.
How old can a child climb a ladder?
Active children who play a lot outdoors should climb a ladder under the supervision of adults from the age of 3-4 years.
However, the perfect climbing skills can be achieved at the age of 6 to 7 years. At this age, keen parental supervision might not be necessary.
Conclusion
As kids grow, they change from crawling to walking and running and finally end up jumping and climbing on anything they can climb.
However, it is not safe for them to simply climb anywhere. Equipping your child with the best outdoor climbing toys for toddlers that appeal to their active personalities makes your child more agile.