Now that your baby is learning to stand, it is time to start thinking about the best toys for babies learning to stand!
Standing is an important milestone for babies. It helps them explore their space, and they can use it to reach for things.
But standing isn't easy, and it may take some time before your baby learns how to do it.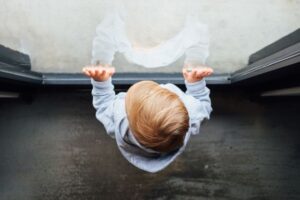 That is why you should invest in some new toys that will help them get there. From walkers and jumpers to push cars and ride-ons, there are many great options for babies who are learning to stand. 
We have compiled a list of 11 best toys to help baby stand and walk. It will not only help with their development but also help you create a smart toy plan.
Best toys to help baby learn to stand – Top Picks
Best toys to help baby stand up – Reviews
Encouraging kids to stand and walk is important for their development. The VTech Sit-to-Stand Learning Walker is a fun way to give your child this opportunity.
This toy is both a walker and an activity center for toddlers learning how to walk. It grows with your baby, helping them make the leap from crawling, standing, to walking. 
The removable activity center is great for floor play. It has everything you need to entertain kids and encourage new skills. 
There are three spinning gears activated by a simple push of a button. This helps toddlers develop hand-eye coordination and fine-tune their motor skills.
Also, it has five piano keys that have different sounds to encourage early music discovery.
Plus, it has a puzzle piece to encourage problem-solving skills. Well, the activity center is a learning tool too. It teaches letters, numbers, shapes, and more!
The walker mode offers walk-along fun. It supports your baby as they practice walking and standing. In turn, it helps strengthen their legs and improves balance.
VTech Sit-to-Stand Learning Walker is also designed with safety in mind. Its wheels are sturdy and will not slip or move unintentionally, which eliminates the possibility of falls and injuries.
You will also appreciate that it has an ergonomic handle. Though not adjustable, it provides a more comfortable grip.
Pros
✅ You can choose from different colors
✅ Removable feature-packed interactive panel for hours of fun and learning
✅ Perfect handle height for babies learning to stand and walk
✅ Comes in frustration-free packaging
Cons
X️ A little traction would be good when using on the hardwood floor
Learn More from BestToyLine: Best Development Toys For Infants
Have you been looking for a walker with a twist? I mean, one that will help your baby transition from sitting to standing and then learn how to balance and walk? If so, you have come to the right place.
Babies are pretty good at figuring out how to use their hands and feet. However, they need a little help when it comes to finding their center of gravity.
Well, this balance box is designed to help your baby develop balance and coordination from the earliest age possible.
The box has four different activities that encourage children to explore different types of balance and movement.
With this walker, babies can take their first steps with the walker, transition to a sit-to-stand activity, and then push it around as they grow. 
Plus, it can double as a toddler activity table.
The design is perfect for any space in your home as it does not take up much space at all. Also, it has spring feet and non-slip silicone ideal for most floors, including carpets.
Give your child a chance to enjoy themselves while keeping them close by with the Little Balance Box!
Pros
✅ Compact design for small spaces
✅ Excellent traction on all floor surfaces, even wood
✅ Made of sustainable lightweight bamboo
Cons

 
X️ Requires parental assistance
Why should your child have to sit when he can stand and play? This is the question many parents ask today. 
With all of the new technologies that exist, it is a wonder why there is no a toy that combines "iPlay" and "iLearn" into one. Well, now there is! 
Introducing iPlay, iLearn 3-in-1 baby walker toy. This innovative toy allows babies to play and learn while they explore the world around them. 
This toy includes three different activities to keep your little one healthy and happy. 
They can play with an activity table that presents scenes and animals while developing motor skills and intelligence. Or they can take a walker for some good old-fashioned exercise that will help them on their way to taking their first steps. 
The toy also includes a drawing and writing board for those doodling sessions. The best part? It also has a handy drawer that can be used as a storage space for toys – no more clutter!
Plus, this toy is never short of fun. It has a removable activity center that stimulates their senses with lights, music, colors, and shapes while developing motor skills.
And lastly, the baby will get a chance to prevent bow legs by walking correctly with its easy-grasp handle, speed control, and triangular structure.
This is certainly one of the best toys to stimulate your baby's mind, body, and imagination from day one.
Pros
✅ Sturdy ABS construction
✅ An activity table and a drawing board in one product
✅ Removable interactive game center
✅ Adjustable speed control
✅ Wider wheelbase 
✅ Prevents bow legs
Cons
X️ A bit flimsy when set up as an activity table
The ultimate 3-in-1 baby toy for the budding toddler! No need to buy separate walkers, playmats, and ride on toys when you can get it all in one. 
This versatile toy grows with your baby, providing three levels of play and developmental growth.
The removable activity panel offers sit-to-play fun. It includes a piano panel, activity game board with music and soft lights to stimulate motor skills and intelligence,
As your baby gets closer to walking age, you can convert this baby walker into a stand-up walker. It will help them gain balance and leg muscle strength.
In addition, this toy is upgraded to be more than just a sit-to-stand baby walker. When your child is ready for more advanced riding fun, just convert it into a ride-on toy bike!
Like other walkers from this manufacturer, your child's safety is guaranteed. It is more stable, has an adjustable speed, and offers a comfortable easy-grip handle. Moreover, it prevents bow legs.
Parents will also love the upgraded wheels. They are bigger, allowing them to roll easily on most surfaces.
If you want to give your little one the best of all worlds, this toy is the best start.
Pros
✅ Broader base than other walkers
✅ Interactive game panel
✅ Large multisurface wheels
✅ Doubles as a ride on bike
✅ Adjustable height and speed
✅ Prevents bow legs
Cons
X️ Adjustment knobs are a bit big for small hands
This ingenious design will allow your baby to grow with the toy, and it's so much more than a walker! With three modes of play, this toy is truly the right choice for you and your little one.
This toy is so versatile and gets rave reviews from parents. 
We love that it can grow with your child! In the baby gym mode, hanging toys are just out of reach for your little one. However, they will soon grow into the activity panel to enjoy a light-up piano or phone.
Kids will love exploring all the interactive features and learning about colors, shapes, letters, numbers, and more! 
And when they are ready to take their first steps on their own you can convert it to a walker with speed control. 
It is so fun for kids to play with this toy – it really is a get-up-and-go toy!
Also, with six different color-changing dome lights, your toddler has six moods to choose from while exploring their new toy! 
If you want a walker that provides a wealth of developmental activities to entertain your baby or toddler, this is it.
Pros
✅ Removable activity panel
✅ Customizable wheels
✅ Frustration-free packaging
✅ Wheels are spread for better stability
✅ Includes a teether toy
Cons
X️ The phone does not stay in place
Four modes of play in one great toy! Bright Starts Giggling Gourmet 4-in-1 toy grows with your baby, providing hours of fun as they walk, push, sit and cook.
The 4 modes of play grow with the baby and can be used in conjunction or separately. You can use it as a walker, a cooktop, a shopping cart, or an activity table.
Your baby can enjoy being a chef in the kitchen, a shopper at grandpa's store. They can also enjoy being a roller in the garden patch, or a runner on the sidewalk. 
But this toy offers more a variety of settings to grow with the baby's needs. It also features cooking sounds, lights, and a shape sorter to encourage imaginative play.
The shape sorter includes shapes that represent food babies love the most. The baby will also love popping kernels of popcorn and flipping eggs on the frying pan while watching the sizzling sound effects.
Well-designed for hands-on baby fun, your little one will definitely love it!
Pros
✅ Converts to a shopping cart and activity table
✅ Interactive toy station
✅ Teaches cooking skills
✅ Spread wheels for stability
Cons
X️ A bit on the light side
The Super Joy Sit-to-Stand 3-in-1 Baby Learning Walker is your little one's new best friend. It helps your little one develop mobility skills while learning new skills at the same time.
Start them out as a sit-to-stand toddler learning walker toy. As they grow older, transition to a push toy that helps toddlers gain coordination and strength while they learn to walk.
Plus, the removable activity panel allows you to adjust the toys to suit your child's age and skill level. It provides hours of fun with music, colorful shapes, bright buttons, and more!
Do you worry that it might not work for your type of floor?
Well, it is good that this walker toy works on both carpeted and hard floors. Moreover, it has easy-to-grasp handles and speeds control wheels to improve their grasp and push ability.
This fun interactive walker toy not only encourages toddlers to gain the confidence they need to learn to walk. It also helps them walk correctly by preventing bow legs.
Another huge improvement on this toy is the wider wheelbase. It makes the chassis more stable so it does not topple over or fall down easily.
With this fun and engaging toy, your child will not be bored at any stage of development.
Pros
✅ More stable chassis
✅ Prevents bow legs
✅ Removable game panel
✅ Adjustable wheel speed
✅ Easy-to-grasp handle
Cons
X️ Batteries not included
LCHUANG baby walking harness is the best baby harness walker to help your child learn to walk! 
Made from high-quality nylon, it is super comfortable for your little one. The soft construction makes it breathable, even in the summer when your baby might feel hot and irritable.
It features a Velcro design on the back for easy donning and doffing. Plus, it has an adjustable strap to grow with your child. 
This baby harness is also strong, lightweight, and durable. Hence, you will never have to worry about it getting damaged or breaking after just a few uses. It will keep your little one safe as they move towards their big day.
Available in three colors, this baby walking assistant is perfect for all seasons and can be worn with a variety of outfits. 
If you are tired of bending over too much to help your child learn to walk, then this is the product for you!
Pros
✅ Relieves backaches
✅ Adjustable strap grows with your child
✅ Easy to wear and remove
✅ Soft thick cushion
✅ Breathable material is suitable for all seasons
✅ 2-year warranty
Cons
X️ Requires parental assistance
Your little son and daughter alike will love this fun developmental toy. It is a great way to keep babies entertained as they develop their motor skills.
This toy is among our top choices because it combines an infant seat and a walker in one product, making it an ultra-convenient choice for parents. Moreover, the seat converts easily into the walker by simply removing two screws and flipping it over.
It, too, has an activity center. With a variety of fun developmental toys, it offers plenty of entertainment and learning opportunities.
The high foam backrest provides added support, while the adjustable-height seat pad ensures this activity walker will last as your child grows. Plus, the seat is machine washable, which makes quick clean-up a breeze!
The independent front swivel wheels make this walker easy to maneuver and skid-resistant pads on the base help keep it in place. When not in use, quickly fold flat for storage or while traveling.
A parent's best friend, this activity walker will give you a break while your little one plays.
Pros
✅ Swivel wheels for easy maneuvering
✅ Includes adjustable seat
✅ Onboard activity center
✅ Integrated cupholder
✅ Folds flat for storage
✅ Easy to clean
Cons
X️ Not many interactive activities
What's your little monkey's ultimate dream? Is it to stroll through the jungle discovering new and exciting species as they go? Well, the Roaming Safari Walk-A-Bout Walker makes all this and more possible.
The removable toy station transforms every room into a jungle. All the sounds, sights, and sensory stimulation of an African safari are right at your baby's fingertips.
Lights, music, and toys keep little ones entertained while on their journey. 
The best part? It comes with a seat. With 3 height positions that grow as your child does, it's safe for your little one to explore at his or her own pace. 
Parents can also find peace of mind knowing that their child is safe with this walker. 
Made with safety in mind, the walker is constructed from durable yet lightweight aluminum material and features a wide base for stability.
And when the fun is over, it folds up for easy storage.
Pros
✅ Includes an adjustable seat
✅ Removable toy station for use anywhere
✅ Folds flat for storage
✅ Extra-wide base for stability
✅ Rubber bumpers keep it from going down the stairs
Cons
X️ No padding around the seat
Learn More from BestToyLine: Best Toy To Help Baby Walk
Also Check: When Do Babies Start to Play with Toys?
A car that grows with your baby. This Fisher-Price Laugh & Learn Smart Car is so much more than a toy.
It has three ways to play, so it can grow with the baby. It starts as a fun bouncing activity for little ones who are learning to walk. As babies grow, their independent playtime will change, and the Smart Car grows with them! 
The interactive dashboard lights up, plays songs and sounds, and has buttons that teach numbers, animals, colors, shapes, and more! Best of all, as your child grows, the learning content changes – just like in school – to suit their age and stage.
Press the button on the car phone and hear a call home – but not just any call home! You will hear your baby's favorite characters from the Laugh & Learn Smart Learning Home respond with age-appropriate phrases.
Watch your child's face light up at every turn with this smart car that keeps them engaged.
Pros
✅ Interactive dashboard
✅ Learning content changes with the baby's age and stage
✅ Includes bouncy seat
✅ Doubles as a ride-on toy car
Cons
X️ No actual steering capability
Best toys for babies learning to stand – Buying Guide
1. Age-appropriateness
The toy should be age-appropriate for a baby's developmental stage. This way, the baby can benefit from it in the best way possible. 
2. Height
Ensure the toy conforms to the height of your baby. After all, you do not want a toy that your little one cannot reach.
3. Convertible Design
Though not a must, it is good to have a toy that appeals to your child for an extended period of time. It will be able to accommodate future milestones, such as walking. And that means more value for money.
4. Stability
The best standing toys should have a stable base and legs. It will provide much-needed support for babies to pull up and hold onto while they stand.
5. Activity Center
Standing up toys with self-contained entertainment centers are great and for valid reasons.
It gives the baby more to explore as they learn to sit and stand. And the more they explore their world, the more chance your little one has to discover height at their own pace and doing.
6. Childproof Design
Your child's safety comes above everything else. Hence, choose a toy that has a childproof design. 
It should not have sharp corners or ledges that your baby can bump its head into. Also, consider high-traction wheels that work well on carpeted, tiled, and hardwood floors.
Frequently Asked Questions
1. Is it safe for babies to use furniture as stand-up support?
Yes, it is safe for babies to use furniture as stand-up support. Furniture with lower height and without sharp edges safely aids kids' support.
Also, the furniture should be strong to avoid sliding that could drop your little one. Parental supervision is critical to watch your young ones support themselves.
2. Do I have to teach my baby how to stand up?
No, you do not have to teach your baby how to stand up. Standing up is a natural developmental milestone and thus may not require any extrinsic intervention.
However, you can speed up the learning process of standing up for your baby by introducing the best toys to help the baby stand.
Conclusion
Your search for the best toys for babies learning to stand ends here. Hopefully, your little one will find them entertaining and useful as standing up assistance.
Most of the toys we mentioned can grow with your child saving you the money to replenish new toys. But even those that do not will still be useful for your younger kids.
But before you go, we would like you to share your experience, if any, with one of these toys. Also, let us know how you feel about our review in the comments.