Your baby has been on their back for weeks now. They want to explore the world, but they cannot find a way to get there. If you have ever wondered how to encourage your little one to crawl, it is time to read on!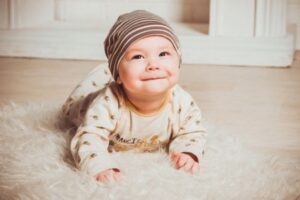 Research has shown that babies who crawl have better motor skills and are more likely to be physically active as they grow. And, it can also help babies develop a sense of independence.
One way to encourage this activity is to get them the best toys to promote crawling. It will challenge them and make them want to get on the move.
However, many parents wonder what toys to buy for their babies in order to encourage crawling.
Fret not! This article details the top 10 best toys to encourage crawling, including a bonus one for those looking for more options.
Best Toys to Encourage Crawling – Top Picks
Learn more from BestToyLine: Best Toys For Baby To Pull Up On
Best Toys to Promote Crawling – Reviews
Check the Latest Pricing on ECR4Kids – ELR-12683 SoftZone

Do you think your little one is ready to take the next step in their climbing and crawling skills? Your kids will love discovering all the ways they can move with the SoftZone Climb and Crawl Activity Play Set!
This playset gives them a place to practice on 5 different shapes with varying surfaces as they grow! They can climb, crawl, and slide their way into a state of pure bliss.
The best part? The pieces are light enough for infants and toddlers to lift and stack together. Also, with its gorgeous colors, you can use it as a sensory activity for children too.
The five soft foam shapes are durable enough to withstand lots of wear and tear without sacrificing comfort.
Moreover, the low-maintenance design makes it easy for parents to keep their kids entertained while also being user-friendly for grown-ups. They are easy to clean with a quick wipe. Plus, the set is constructed with CertiPUR-US certified foams to ensure the safety of you and your child.
Your kids will definitely love discovering all the ways they can move with this activity playset! It will not only help them develop gross motor skills but also encourages social interaction and critical thinking.
Pros
✅ Low maintenance playset
✅ Lightweight pieces that are easy to move
✅ Non-slip bottom
✅ Toddler approved
✅ No assembly required
Cons
X️ Nothing to hold the pieces together
Introducing Splashin' Kids Beginner Game Ball, the perfect introduction to crawling skills.
This jumbo roller stimulates baby development, sharpens puzzle-solving skills, teaches cause and effect, and more. Plus, it is just the tummy time activity center you need to encourage your baby to crawl.
Colorful animal graphics, 2 rattle balls, and an LED light ball will grab your baby's attention and encourage playtime. It certainly has everything you need to start your little one off on the right track.
The balls are an excellent toy for any child, not just babies.
Babies love the bright colors and animals. Toddlers will like the drop ball game and puzzle-solving skills. Older kids, on the other hand, will enjoy the flashing lights and sound of our jumbo roller toy!
With its heavy-duty PVC construction, the balls will stand up to any punishment your little one can dish out. Plus, it is guaranteed not to leak!
And best of all, it is a cinch to set up! Simply blow up with an air pump and let the fun begin!
Pros
✅ Premium quality and attention to detail
✅ Leak-proof design
✅ A cinch to set up
✅ Teaches problem-solving skills
Cons
X️ The material tends to attract dust
Check the Latest Pricing on Hide N Side Ball Pit
Jump in. It is time to play! This is a ball pit playhouse with no limits. With endless options, it provides a wonderful way for kids to release their energy while having fun at the same time!
Tents, ball pits, and see-through mesh tunnels make this playhouse the perfect hideout for your little ones. They can spend some quality time inside crawling and exploring.
Moreover, kids love this playhouse because there is no wrong way to play. They can crawl the tunnels, jump into the ball pit, or relax in one of the tents until they are ready to come out and do something else.
And yes, it also has something for older kids and parents. It includes 2 basketball hoops, holes for the target toss game, and even a darts game. With something for everyone, the entire family can join in the fun.
Plus, safety is guaranteed. At 18 inches, the tunnels are just large enough for toddlers to crawl inside without getting stuck.
In addition, the see-through mesh cover keeps them comfortable without the fear of confined spaces.
Moreover, this playhouse is easy to pop open for easy setup as it is to pack for storage. It not only folds away but also comes with a carry case for convenient storage.
This playhouse is a fun way for children to enjoy themselves, get lots of exercises, and just simply be kids.
Pros
✅ Multiple play centers
✅ Easy to customize the maze options
✅ Easy to set up and store
✅ Ultra-durable and lightweight
Cons
X️ Does not include anchors and pit balls
Check the Latest Pricing on Sunny Days 6 Foot Play Tunnel
From the moment they step into this 6-foot-long tunnel, kids can imagine themselves in a new adventure. It is the perfect place for your little ones to take a break and explore their imagination.
You can bend it into many fun shapes to promote creative play or crawl inside for a fun game of hide-and-seek. In addition, the bendable design allows it to fit any space. You can place it in a corner or on the floor, whichever you prefer.
Also, at 6 feet long, this play tunnel is pretty large. Hence, your little one can have fun playing by themselves or with friends.
You can rest assured that this play tunnel will hold up to all the crawling and rolling around. After all, the polyester fabric and wireframe are designed to take any punishment your little ones have in store.
Pop it up in seconds for easy assembly – no tools required. Also, the tunnel folds flat for easy storage when playtime is over.
Made of safe, non-toxic materials and finished with bright colors, this tunnel will keep your kids safe and yearning for more.
If you want to build your child's physical and social skills through fun and play, this play tunnel might be just what you need.
Pros
✅ Bends into many fun shapes
✅ Pops up in seconds and folds flat for storage
✅ Encourages social skills
✅ Durable stitching
✅ Meets federal standards
Cons
X️ Does not have interactive features
Check the Latest Pricing on Lucky Doug Electric Train
Bring home the joy of childhood with the Lucky Doug Electric Train Set for Kids. This 14-piece set includes a realistic train and an assortment of track pieces that combine to create a memorable experience.
From the chimney to the wheels, this train set captures all the fine details. So, you will feel like you are touching the real thing.
But it is not just the realistic train appearance. This train set also has a realistic sound and rich atmosphere. It allows your little ones to enter a retro train world with their imaginations running wild.
This set is easy to assemble, and the track pieces fit together easily. Hence, your little one can build an exciting track layout by themselves!
The best part? You can purchase additional track pieces to expand the layout for hours of imaginative playtime in the living room or on a larger scale outdoors.
Moreover, this train set is also durable. So, you do not have to worry about broken tracks or cars. Plus, it is perfect for children who do not want to be bothered with wires that can get tangled up in everything.
Again, this train set meets CPSIA and ASTM tests, so it is safe for kids of all ages.
If you want to give your child a memorable toy that will make them happy, this is your best option! Your kids will be able to enjoy this toy for years as they continue to play with it and build upon it.
Pros
✅ Realistic train appearance, movement, and sound
✅ You can place the track into any shape
✅ Firm assemble
✅ Safe and durable
✅ Clear instructions
Cons
X️ Batteries are not included
Learn more from BestToyLine: Best Vtech Toys For 2 Year Olds
Check the Latest Pricing on Fisher-Price Crawl Around Car
Every child has a different personality and learning style. Whether they are crawling, cruising, or taking their first steps, it is important to keep providing them with new ways to explore.
The Laugh & Learn Crawl Around Car is a great example of this! Designed with your baby's developmental needs in mind, this toy encourages social skills and helps your little one grow.
This car has it all! It has an interactive dashboard that engages and entertains with lights, sounds, and busy activities. Also, it has light-up buttons that introduce colors, shapes, animals, and letters.
You can use it as a crawl-around toy or push so that your little one can explore on their own. Also, turning the steering wheel, it helps kids build motor skills.
Overall, there are three modes of play: music, learning, and imagination. The good thing is that each one is designed to provide age-appropriate challenges and experiences.
Not only that, but each mode is also designed to grow with baby from infant to toddler age. It will encourage them to sit up, crawl, pull up, stand and move all around!
Available in either pink, this car is sure to be their newest best friend.
Whether you are teaching your toddler how to walk or just want them to have a little fun on their own, this toy car will surely make that happen!
Pros
✅ Three modes of play
✅ 6 interactive activities
✅ Smart stages encourage the baby to sit, crawl, and cruise around
✅ Doubles as a learning toy
✅ Includes built-in ramp for ball play
Cons
X️ Requires adult assembly
Check the Latest Pricing onECR4Kids Mirror Cube
The SoftZone Mirror Cube is a sensory toy that provides an environment where kids can explore touch, sound, and sight.
The mirrors encircle 5 sides of the foam cube with fun colors and patterns. It encourages tummy time as infants try to crawl and reach it. Not only that, but it also encourages babies to reach for the mirror cube to support themselves to sit or stand.
In addition, the cube is light enough for babies to flip over to develop important motor and cognitive skills.
The mirrors also mean that it will be fun for their eyes, as well as their cognitive and sensory skills. It will provide visual stimulation and help the baby develop face muscles while playing.
Essentially, your baby will have endless ways to explore and learn from this cube mirror. Furthermore, the unique shape is designed to give the baby's hands an easy grip.
Plus, you do not have to worry about any injuries. After all, the mirrors come in flexible, shatterproof materials. Also, the toy is designed with foam, making it safe for your little one to use without any sharp edges.
If you are looking for a great sensory toy for your baby, this may be the right one for you!
Pros
✅ Child-safe mirror
✅ Has mirrors on 5 sides
✅ Textured non-slip base
✅ Lightweight enough for babies to push and maneuver
✅ Certified foam material
Cons
X️ Tends to slide on some floors

Check the Latest Pricing on XDEMODA Baby Play Mat
Yogis, parents, and kids will love the XDEMODA play mat. This mat is a combination of a baby play mat and an exercise mat all in one.
It has two sides: one side for play and one side for exercise.
The play side has different textures for tactile development. It is a great place for your baby to crawl, explore and play!
The exercise side allows it to double as a home gym mat for adults! It is especially perfect for busy moms who need their workout time at home during naptime.
This mat is also extra-large, so your baby has plenty of room to crawl around and explore without getting into anything dangerous.
XDEMODA is also designed for playtime at home and on the go. It folds up easily and includes a carry case so you can bring it with you anywhere. Plus, it is waterproof for indoor and outdoor use, so you can take it with you wherever life takes you.
The mat is cushy soft, non-toxic, and hypoallergenic. Hence, the health and comfort of your baby are guaranteed.
Even when your baby's crawling days are over, the XDEMODA Baby Play Mat & Exercise Mat is still ready for action.
Pros
✅ Reversible design for playtime and exercise
✅ Safe for baby's health
✅ Waterproof and easy to clean
✅ Includes portable carry case
✅ Extra-large size
Cons
X️ The storage case has flimsy stitching
Check Latest Pricing on KiddoLab Lilly The Bug
The newest, most adorably cute crawling toy is here! Meet Lilly the ladybug, a musical activity center with more than just buttons to press.
This toy allows children to crawl and explore on their own. It has a variety of sensory experiences, like buttons, spinning balls, colorful beads, and sliding rings. Lilly's cheerful melodies, vibrant colors, and soft body will also provide hours of enjoyment!
Moreover, this ladybug has that face a baby cannot resist. A warm smile and friendly eyes make this activity toy adorable at first sight.
The best part? She can crawl by herself. Just press the button under her wing, and she will be scooting around in no time. it is the perfect way to encourage the baby to also crawl after her.
This toy is designed for even the youngest children. It also promotes gross motor skills and creative play, all while having fun!
Pros
✅ Adorable design
✅ Can crawl on its own
✅ Doubles as an educational activity center
✅ Safe for infants
✅ Includes cheerful music
Cons
X️ A bit too small
Check Latest Pricing on Skip Hop Developmental Toy
When your little one is ready to start crawling, you want a toy that will help them on their way. That's why we love the Skip Hop Developmental Learning Crawl Toy.
This toy encourages babies to discover, explore, and crawl in three stages.
First, it lets them discover the world around them with colorful lights, energetic tunes, and motorized movement. Secondly, it encourages pre-crawling by moving in a circular pattern. Lastly, it caters to advanced crawlers by moving in random patterns.
The cool thing about this crawl toy is that it has sensors to avoid obstacles. Also, the removable bee rattle doubles as a teether.
The bee comes with easy-grip handles, making it easy to hold. In addition, it wobbles in place but does not fall over. And with a smiley face, your baby will fall in love instantly!
Indeed, this is one of the best toys to encourage tummy time and help your baby crawl.
Pros
✅ Encourages crawling in three stages
✅ Grows with your baby from pre-crawling to advanced crawling
✅ Removable bee doubles as a teether
✅ Interactive lights and music
✅ Has a sensor to avoid obstacles
Cons
X️ Not easy for infants to figure out how to put back the bee on the cloud
Check Latest Pricing on YMDLY Dance Toy
Toddlers love to shake things. They are excited, music-loving little beings who love to move.
Now there is a toy that will let them strut their stuff! Not to mention encourage them towards independent movement.
With a simple pat of the hand, the ball will start jumping, spinning, and singing happy tunes. Also, it has two modes activated with the flip of a switch. You can choose to have the ball dance to the music for 10 seconds or 5 seconds.
Your baby will love to see the vibrant colors and feel the textured bumps on this toy. And did you know? The textured bumps also double as teethers.
The music is age-appropriate, so you do not have to worry about it getting too loud. This toy also has an easy-grip ball design that makes it perfect for your little one to shake and roll while they play.
Plus, this toy can take punishment. It can withstand rough handling, trampling, and accidental drops.
Your little one will certainly look forward to shaking, shaking, and shaking with this ball toy!
Pros
✅ Doubles as a teether
✅ Self-rolling and self-bouncing design
✅ Has interactive music
✅ Easy-to-grip texture and size
✅ Solid and durable
Cons
X️ Pretty loud
Best Toys for Encouraging Crawling – Buying Guide
1. What types of toys encourage crawling?
This is the first question to ask when choosing the best toy to help the baby crawl. To ensure you are on the right track, consider the following crawling toys:
1.1. Roll toys
Roll toys will help strengthen your baby's neck, back, legs, and arms to prepare them for crawling. Also, rolling away, it encourages babies to move in and out of the sitting position by crawling.
1.2 Tunnels
Tunnels are good for developing gross motor skills. Also, it helps babies control the movement of their legs and arms. Tunnels, in particular, are excellent for encouraging the baby to crawl forward.
1.3 Train and car toys
An electric train or car toys will motivate babies to crawl after them. In addition, it will help them develop their grasping skills.
1.4 Mirror toy
A mirror toy creates interest, especially if the baby sees their reflection. They will want to reach for it and explore more, something that will encourage them to crawl.
1.5 Ball toy
Ball toys will help your little one practice their grasping skills. Also, a rolling ball will encourage babies to chase after it.
1.6 Musical toy
Music toys will do more than keep the baby engaged for hours. They will also help the baby practice fine motor skills, gross motor skills, and hand-eye coordination.
And as you might have guessed, such skills are an important part of learning how to crawl.
1.7 Playmat
Playmats will get your child one step closer to crawling and even walking. It provides the ideal surface for scooting on their belly and also for tummy time.
Also, playmats provide a comfortable surface that is gentle on the baby's knees and stomach.
2. Durability
Babies need toys. Not just any toy, but a durable one. The best toys to help babies crawl are the ones that will entertain your child, hold their attention, and can be used for months on end without being broken or too worn out to play with.
Frequently Asked Questions
1. When should babies crawl?
Crawling starts between 6-10 months, with the average being 9 months. However, it is normal if they start sooner or later. In addition, some babies will skip crawling altogether.
2. Why is my baby not crawling yet?
As mentioned, some babies tend t skip the crawling part. They will simply move from sitting upright to standing and then walking.
Lack of enough tummy time might also be another reason why your baby is not crawling yet. Also, it may be that the baby is just not ready to crawl yet. After all, crawling is a new move that takes time to learn.
Moreover, it may be that they are doing it but in a different style. You see, besides the classic crawl, there are other different techniques that also count.
Some babies will creep, scoot on their bottom, or just rock back and forth. Others will move on their belly, dragging their legs behind them.
Conclusion
The best toys for encouraging crawling are the ones designed perfectly for this stage of development.
They are engaging enough to keep your child entertained while they are learning how to move around on their own.
Toys with bright colors, sounds, music, and interesting textures will be more attractive to your little one. Also, think about what else excites them most and utilize these qualities to help you pick the best crawling toys from our list.