Who does not know VTech, a trusted household name and creator of award-winning kid's toys?
It is three decades down the line, and we still cannot get enough of its toys that encourage kids to learn through exploration, discovery, and fun.
So, you have a 2 year old kid and wondering which VTech toy will suit them best?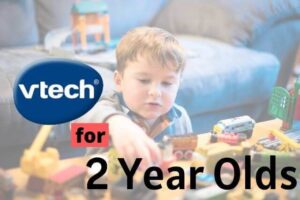 You see, kids grow up so fast! There are so many milestones to be reached and not much time to make it happen.
That is why it can be hard to find the best VTech toys for 2-year-olds. It is hard because every child is different and has their own unique interests.
Hence, you might have to play a bit of trial and error before you find the perfect toy.
But no need to second-guess, we are here to help! We will review the 10 best VTech toys for 2-year-old kids, plus a bonus 11th choice to expand your options.
What are VTech toys?
VTech toys are innovative electronic toys for kids. The goal is to encourage child development while making learning more fun.
But while VTech only makes electronic toys, its products are very diverse. VTech toys come in different categories for learning, games, music, fantasy, nature, and animals.
Why should you buy VTech Toys?
1. Trusted toy brand
First, VTech is a world-class toy brand with years of experience and millions of satisfied customers.
In addition, this toy brand is a pioneer in the learning toy category. Hence, it is a name you can trust.
2. Dominates the industry of electronic learning
Also, according to Forbes, the VTech toy brand dominates the market of electronic learning aids for kids. So, as far as electronic toys go, this toy brand is unbeatable.
3. World leader of age-appropriate toys
Moreover, when it comes to age-appropriate electronic toys, no other toy brand beats VTech.
It is a good thing, especially for parents who do not know what to get their kids at different stages.
Now, an age-appropriate toy will not only match your kid's age. It will also match their interests and skills at different stages of development.
Hence, as a parent, you will rest assured that any VTech toy you choose will serve your child's best interest. Not to mention it will provide more value for money.
4. Your child's best smart friends
Furthermore, electronic toys are your child's best smart friends. And this is an area where VTech delivers.
As a mom or caregiver, VTech electronic toys will save you the heavy work, hence giving you time to attend to other chores.
5. Conform to safety standards
All VTech toys meet the US Toy Safety Standard. They all come in non-toxic BPA-free materials.
Clearly, there are enough reasons to spent your resources on VTech toys and make your child happy.
Best VTech toys for 2 year old – Our Top Picks
Reviews: Best Vtech Toys For 2 Year Olds
Are you still second-guessing the best VTech toys for 2-year-olds? Well, no need to hurt your head anymore.
Sit-to-Stand Ultimate Alphabet Train is the overall best. After all, it is the ultimate toy for a reason. This toy is packed with tons of engaging activities for your toddler to explore and learn.
At the push of a button, your child will be able to explore 10 activities while also engaging in role-playing and imaginative play. From counting letter blocks to listening to numbers and animals, this toy has it all!
As a parent, you will also appreciate the ease with which toddlers learn as they introduce colors, weather concepts, letters, and much more.
Do you know what makes it so easy?
Well, it is because this Alphabet Train just never gets boring! With over 100 songs, melodies, sounds, and phrases, the train will keep your little one engaged for hours of learning fun.
Do not mistake the clock in this toy for just a timepiece. It also features a walkie-talkie to develop social skills such as turn-taking and short conversations.
Do you think that is all? Well, you are mistaken. This toy also includes a storybook to stimulate your child's creativity and imagination during playtime.
In addition, you never have to worry that your child will outgrow it soon.
It starts as a floor play mat and then easily converts to a ride-on train that is just their size. Then, as your child gets older, it converts into a wagon perfect for toting all of their favorite things from place to place.
Well, with this Sit-to-Stand Alphabet Train, learning has never been this much fun.
Pros
✅ Grows with your child
✅ Three color options
✅ The bocks can double as LEGOs
Cons
X️ Not too stable in ride-on mode
Have you been hunting for the best-sit-to-stand VTech toy for 2-year-olds without much success? You can rest assured that this toy will suffice.
VTech Sit-To-Stand Learning Walker is the perfect way to encourage your child to walk and explore. This interactive toy provides a safe and stable platform for your baby to take its first step.
The removable play panel encourages your little one to learn and explore through active play. You can use it to provide fun on the go or as a floor activity center.
Plus, the removable panel is packed with features to provide hours of play and fun.
It features five piano keys that play music notes and three light-up buttons that teach numbers, animals, and colors. Other highlights include spinning rollers, three shape sorters, and a telephone handset for role-play fun.
Moreover, your child's changing needs should not hinder them from having fun. The adjustable two-speed control switch takes care of it all by allowing the walker to grow with your child.
It is the perfect toy for babies who are just beginning to stand on their own.
Pros
✅ Grows with your child
✅ Helps toddlers gain confidence to walk
✅ Frustration-free packaging
✅ Multiple colors
✅ Lockable wheels for safety
Cons
X️ Tends to slide on smooth floors
Get your little ones excited about driving with this VTech Turn and Learn Driver, the best-rated VTech toy for 2 year old.
The Turn and Learn Driver is so much more than a toy. It is an introduction to the rules of the road, teaching colors, animal sounds, and how to steer.
With three ways to play, this toy will keep your little one engaged and learning in animal mode, driving mode, or music mode.
Your little one can steer, shift gears, and honk in driving mode. Plus, it has a dog character that encourages your child to spin the wheel.
Press the five interactive buttons, and your little one gets to learn new words about animals or vehicles.
When it is time for a break, switch to music mode and listen to fun tunes from around the world! There are more than 60 sounds, melodies, songs, and phrases that will make your little one excited to get behind the wheel.
In addition, this toy has three levels of play to grow with your child: imaginative play, play and learn, and rules of the road.
Indeed, it is a fun way for your little one to drive, learn, and have fun.
Pros
✅ Introduces road safety at an early stage
✅ Fantastic for motor skills
✅ Adjustable volume
✅ Two color options
Cons
X️ The steering does not turn all way round
>>Learn more from BestToyLine: Best Place To Buy Kids Toys Online
Are your kids bored? Do they need something to do? Then, the VTech Busy Learners Activity Cube is the perfect solution.
This is one of the best Interactive VTech toys for two-year-olds. Though simple in design, it provides the ultimate place for little ones to learn, explore, and play.
This activity cube is designed to help kids ages 6 months and up develop their minds and bodies as they play. With five sides of exciting activities, it is sure to keep them busy for hours.
Packed with14 different activities, your little one will not be bored for a minute. They can explore letters, numbers, shapes, and more. By doing so, it helps develop fine motor skills.
With this activity cube, the possibilities are endless!
This toy will also teach your child animal names, sound, and shapes with four light-up buttons. Even more interesting, it has motion-activated fun sounds that encourage your baby to crawl.
But this activity cube does not provide fun at the expense of your child's safety. It comes with parental controls, including an auto shut-off feature and adjustable volume.
Certainly, this toy has it all! And as they say, a busy cube is a happy child!
Pros
✅ A ton of interactive features for busy learners
✅ Adjustable volume
✅ Auto shut-off feature
✅ Two color choices
Cons
X️ The songs are a bit annoying
Cuddle and learn with the VTech Baby Lil' Critters Moosical Beads. This plush cow is the Best VTech Stuffed Animal for a two-year-old.
This toy has a bead ring that offers fun new ways to introduce shapes, colors, and numbers to your little one. All they do is spin the bead ring and press a light-up button.
Now, here is one more thing about the light buttons. They encourage your child to explore cause and effect relationships between the color-coded buttons and the fun sounds that result.
Also, the beads respond to touch by playing music, making animal sounds, and lighting up. Certainly, it will keep your baby engaged for hours.
The cuddling softness is not the only thing that makes this plush toy adorable. It, too, has tactile textures for sensory development.
Moreover, your child will not have trouble getting a good grasp of the bead ring to develop fine motor skills. After all, the handles are just the right size for little hands.
If you want a toy that will foster learning and be your child's huggable companion, this is it!
Pros
✅ Soft and cuddly
✅ Large enough for a crib and small enough to fit in a diaper bag
✅ Includes a lower volume mode
✅ Available in two colors
Cons
X️ No auto shut-off feature
What is cuter than a toy puppy that plays by itself? Well, this pup does just that.
The Rattle & Waggle Learning Pup is the best VTech pup toy for 2-year-olds and a perfect teaching tool for little ones.
This Dachshund pup has an interactive pup side and a magic dog bone side. As your kid rattles the bone, the pup responds by barking, wagging, and chasing after the bone.
By doing so, this pup encourages your child to crawl and develop motor skills.
This interactive pup is full of other fun surprises. For instance, it has a built-in speaker that plays music and phrases about shapes, numbers, colors, and puppy facts. All your baby has to do is push a button.
Also, once the playtime is over, the magic dog bone attaches under the collar for easy storage.
If you want an adorable companion that will have your child shaking, moving, and playing all day, you can count on this Dachshund pup to deliver!
Pros
✅ Encourages crawling
✅ Impact-resistant
✅ Cute and adorable
Cons
X️ Falls over if it touches anything
From an early age, most babies will develop a fascination for culinary skills. Well, you can feed their curiosity and help them learn more with the VTech Learn and Discover Party Playset.
This party playset comprises a serving tray, cups with pretend lemonade, and sweet treats. The idea is to encourage imaginative play and make your little ones feel like they are serving real guests.
However, this toy provides more than the feel of a fun party time. It is also educational. The light-up pieces teach your child about cause and effect. Moreover, it teaches shapes, colors, and sorting.
Also, this party playset has songs, sounds, and phrases to get your child's attention.
Delight your little one with this party playset that they will totally flip over!
Pros
✅ Sturdy enough to take a beating
✅ Brings kids together for socializing
✅ Perfect for your little princess
Cons
X️ ️Might not appeal so much to boys
Are you looking for the best VTech doll toy for two-year-olds? Of all the gifts you can give your child, few are as adorable as this cuddle bug.
This huggable toy will surely melt their heart. Plus, it is just the right size for your little one to carry around as a special lovely doll.
Now, this is not your ordinary stuffed toy that does not light up or make a noise. Instead, it has all the melodies, songs, and fun phrases to keep your baby engaged. It all comes to life by simply pressing a star on the bug's tummy.
Moreover, this is a toy that gives options. Choose day mode to hear lively tunes or night mode for soothing classical melodies that will soothe babies as they fall asleep.
Soft buttons on each foot make this cuddly bug even more interactive. Each comes in different colors with letters to teach your kid shapes, colors, musical notes, and texture.
Plus, the friendly smile and big eyes make it the most harmless-looking toy. I mean, what child would be afraid of the cute little toy?
Whether you want to encourage your child's language development and tactile skill or simply give them a fun new friend, this toy is perfect!
Pros
✅ Soft enough for cuddling
✅ Colorful design
✅ Includes night and day mode
✅ Teaches musical notes at an early age
Cons
X️ A bit loud
Learning how to read is a major step in your child's development. Well, the VTech Touch & Teach Word Book, the best VTech learning toy for 2-year-olds, will make this happen in a smooth way.
It is educational, fun, and engaging – just what any parent would want for their little ones.
This touchscreen book features four modes of play to keep children engaged. The reading mode teaches children how to read with word-by-word highlighting.
Plus, the learning game mode helps teach vocabulary through puzzles and games.
Do you know what makes it even more fun? Well, this interactive toy teaches kids how to read and spell words through sound, pictures, and music.
You will love how the book responds to your child's touch with sing-along sounds and music. Not only that, but this book also has two smart cubs for a more interactive learning experience.
Plus, there are 12 pages with over 100 words to keep your child busy.
Indeed, it is a fun and interactive learning book for both toddlers and preschool kids.
Pros
✅ The pages hold up to rough handling
✅ Touch-sensitive pages
✅ Small enough for little hands
✅ Frustration-free packaging
✅ Available in two colors
Cons
X️ Some toddlers might find it a bit too complicated
>>Learn more from BestToyLine: How Many Toys Should A Child Have?
What do you get when you pool a tablet with educational apps to engage your child's curiosity? You get the VTech Little Apps Tablet!
The VTech Little Apps Tablet is perfect for toddlers or preschoolers just beginning their education journey. Plus, it packs engaging features that make it one of the best electronic VTech learning toys for 2-year-olds.
This toy tablet has 12 progressive learning levels comprising 4 games and 8 learning activities. Well, that is more than enough content to explore and keep your child occupied.
Your child will learn ABCs, 123s, shapes, basic math, and so much more. Also, with interactive games, apps, a piano keyboard, and a color-changing screen, it is easy to keep youngsters busy for hours on end!
Moreover, this tablet gives kids and parents alike complete control over the noise level. Not to mention it has a shut-off feature to save battery.
The size, too, is just right for little hands to grasp and hold. Also, the tablet can withstand drops and spills, which makes it even more child-friendly.
From learning basic concepts to playing games, your child will have hours of fun with this VTech learning tablet!
Pros
✅ Child-friendly interface
✅ The right size for little hands
✅ 12 interactive learning activities
✅ Volume control
✅ Changing screen color
Cons
X️ No option for changing the screen brightness
Let your child explore the world of trucks while honing in on key developmental skills at the same time.
That, and more, is exactly what you get with the Disney Goofy Tow Truck, which we consider as the best Disney VTech toy for two-year-olds.
Youngsters will have hours of endless fun playing with this toy. The go-kart design and steering wheel make it easy for kids to pretend play, from driving on a race track to delivering packages or picking up trash.
With lights, sounds, and an open-top, your child will love pretending they are a real tow truck driver. Also, it has a Disney character for the driver, which is a great way to keep your kids entertained for hours.
However, this Disney Tow Truck is not all about entertainment. It also makes playtime a learning experience by teaching your child important skills.
For instance, it helps develop fine motor skills. Also, it teaches your child early language by listening to the first letter of the vehicle's name. Plus, they will get to hear and learn fun phrases from the goofy character.
With the Goofy Tow Truck, the joy is not only in the riding but also in learning!
Pros
✅ Very sturdy
✅ Clear, high-quality sound
✅ Available in many different styles
Cons
X️ Does not move by itself
Conclusion
I hope this article helps you find the best VTech toys for 2-year-olds that are sure to delight and bring out their full potential. For a toy brand with many awards, VTech has endless options available to parents.
So, it is true that there are other great options out there. But let it not look like we are biased. The above toys are the best in terms of quality, child-friendliness, and value for money.
Plus, they do not need tools to assemble. What is left is for you to pick the one that best matches your child's interest and your budget.