Your toddler is now walking, which means they are going to be on the go constantly. If you want to make their life a little easier (and yours), you need the best toys for toddlers learning to walk.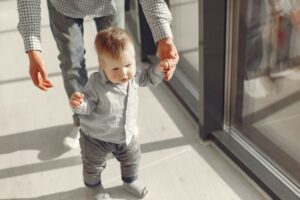 There is a lot of pressure on those first few steps. After all, it is a big step towards independence. That is why you need to make sure your little ones are safe and supported. 
The right toys can help them learn to walk, so they do not have to worry about any falls or bumps along the way. Plus, they will give them opportunities to practice balancing, develop coordination, and build muscle strength.
But do you ever wonder which walking toy is right for your little son or daughter? Well, here are the top 10 toys to help babies learn to walk.
What is the best toy to help baby walk – Top Picks
Best toys for baby learning to walk – Reviews
VTech Sit-to-Stand is one of the most advanced walkers on the market right now, and for a good reason.
First, it can grow with your child, from a crawling infant to a walking toddler. So, there is no need to replenish toys, hence saving you money.
The removable panel is the second reason why this walker is so popular. Your baby can use it as a stand-alone floor activity center or put it back on the walker for fun on the go.
Plus, the activity panel has a ton of interactive features. For example, it has spinning rollers and light-up buttons for developing motor skills. In addition, it has five piano keys for music creativity.
As the name implies, this walker is also a learning tool. It introduces shapes, numbers, and animals. With it, your baby will never get bored!
The best part? All activities are customized for different ages and stages of development.  Hence, your child can develop their gross motor skills with a fun activity they can do at their own pace.
Parents alike will love the stability of this walker. It is stable enough for babies to lean over as they pull themselves to stand up. Plus, the speed is adjustable to suit both pre-walkers and advanced walkers.
It is certainly a great way for kids to get up off the floor and take their first step!
Pros
✅ A removable panel full of interactive activities
✅ Ergonomic handle for better grip
✅ Speed control
✅ Available in four colors
Cons
X️ The grip on the wheels could be improved
Learn More from BestToyLine: When Do Babies Start to Play with Toys?
See Also: Best Inflatable Bounce House For Toddlers
All the fun of a walker with none of the drawbacks! Well, you will have no excuse not to love this baby walker.
Like the VTech Learning Walker, CUTE STONE is also a multifunctional baby learning walker. Only this time, it has more useful features to offer.
You can use it as sit & play, baby walker, or baby activity table. Plus, you can remove the activity panel to use on the floor or hand it for play. The options are endless!
Another thing that puts this walker a step ahead is the scientific design. You see, it has an ergonomic design that is proven to prevent bow legs. So, it is not all about teaching your baby how to walk but also doing it in the right posture.
Also, you get features that allow the walker to grow with your baby, including a height-adjustable handle and adjustable speed.
As far as stability goes, this is one of the best walkers to have. It not only has a broader base, but you can also fill it with sand or water for added stability. So, if you want tip-free performance, this is one of the toys to consider.
As mentioned, this walker has a removable activity panel. It features shape sorters, spinning blocks, turnable gear, rattles, and even a mini basketball hoop.  Also, it has a removable electronic organ and piano keys for more fun.
With such a wide range of activities to stimulate your baby's development, this toy will keep them engaged and entertained for hours.
Pros
✅ Converts into an activity table
✅ Feature-loaded removable game panel 
✅ Height adjustable handle
✅ The scientific design prevents bow legs
✅ Adjustable speed
✅ Easy to fill with water or sand for added stability
Cons
X️ Easy to tip over in the table position
It is never too early for babies to start a lifelong love of walking! Barhee 3-in-1 Learning Walker is the perfect way to give your child the mobility they need while also educating them and giving them a fun time.
This push baby walker comes with three modes: standing, walking and riding.
The standing position helps little ones build balance, while the walker mode helps with motor skills development. And when they are ready to take on a new challenge? It converts to a ride-on car in seconds!
Parents will also love the multifunctional game panel. It is full of lights, music, and a variety of toys to promote hand-eye coordination and cognitive development.
What else does this walker have to offer?
Well, like the CUTE STONE learning walker, it has a stable base to prevent rollover. Plus, it is scientifically designed to prevent bow legs.
If you are looking for the ultimate all-in-one baby learning companion, this baby walker will suffice.
Pros
✅ Removable toy panel
✅ Good for walking, standing, and riding
✅ Tip-resistant base
✅ Proven design for preventing bow legs
✅ Speed control
Cons
X️ Requires assembly
When your little one is ready to start walking, the Labebe Wooden Walker Kids Push Wagon Cart is there for them.
Like other walkers, it is a sit-to-play, stand-to-walk toy, but with a difference. It can double as a chest for toy storage. And when they can walk steadily, the toy chest also helps them transport their toys. So, this push wagon cart is toy storage and walker in one.
The rubber ring protects your floor from wear and tear, and the broad base with 4 wheels helps keep your baby's balance while they learn how to walk. And since it is also a toy chest, you can put books inside to adjust the weight.
This baby walker is also one of the most durable on the market. The wooden construction can take punishment and still last for years. Also, it has bright colors that coordinate with any nursery.
Well, you do not use this walker right out of the box. Instead, it requires assembly. Still, most users find it easy to put together, thanks to clear instructions. Plus, the only tool you will need is a screwdriver.
Pros
✅ Doubles as toy storage
✅ Broad stable base
✅ Has the option to add weight for more stability
✅ Sturdy wooden construction
Cons
X️ Comes unassembled
The children's wooden baby push walkers by Pidoko Kids have been designed with your child in mind. 
This one activity center is full of everything your little one needs to grow and learn! 
It has beads and shapes sorting to help develop fine motor skills as well as a musical note xylophone. And when they want to take a break, there is also a fun pound drum that will delight their senses while they play!
The multiple activities will certainly offer hours of exploration and entertainment.
The four wheels mean it is easy to ride the baby push walkers across any type of surface. Also, the soft rubber grips on the bottom of the feet will keep it from slipping or scratching floors.
Plus, the wide base and sturdy frame provide stability for your child's first steps.
Furthermore, this push walker has child-safe paints. Hence, it is non-toxic, and your baby can safely teeth on it.
With such thoughtful features, this toy is sure to be a hit with both you and your child!
Pros
✅ Multiple activity centers
✅ No noisy electronics
✅ Has storage compartment for toys and baby things
Cons
X️ Takes a while to assemble
We have your baby covered with this one-of-a-kind Walker and Activity Table! With developmental toys for newborns, a gently sloped walker for first steps, and a magnetic drawing board for added entertainment, there is no better gift for the newest addition to your family.
Baby can use it as a sit-to-stand toy, activity table, and drawing board with magnetic doodle board.
The activity table is full of fun games and sounds to encourage exploration of the world around them. Also, it includes animal characters to stimulate and develop your baby's motor skills.
The walker provides a safe place for babies to take their first steps. It has a stable base, ergonomic handle, and adjustable speed to instill confidence in your little ones.
When they are old enough, they can flip out the drawing & writing board. It provides the perfect place for creative kids to draw, stamp or doodle on.
Now, this walker is not all about teaching your baby their first step. It also teaches them to walk correctly by preventing bow legs.
Whether you want to inspire your child's motor skills or promote creative thinking, this 3-in-1 baby walker is a good place to start.
Pros
✅ A walker, an activity table, and a drawing board
✅ Fully featured activity panel
✅ Ergonomic handle
✅ Adjustable speed
✅ Stable structure
✅ Helps prevent bow legs
Cons
X️ Still loud even on low setting
Labebe Cart Walker is the perfect push wagon for babies who are just starting to walk or for those who need help with stability. 
This baby's toy cart combines the best of both worlds: a safe place for toys and a walker when your child is ready to take on the world. 
The most special thing about Labebe? It is absolutely adorable with its cute design and fun colors! What could be cuter than a little one on wheels? Certainly, your little one will be in the spotlight with this rolling baby walker with a toy chest!
This push wagon is designed with a sturdy base to let your little one keep their balance as they learn how to walk.
In addition, you can add weight to the chest to make the toy even more stable.
No more scratches on your floor as the wheels come with rubber rings. This walker also features a durable handle that can be used to steer and maneuver it.
Again, it is equipped with child-friendly features that will keep your baby safe and sound. First, it uses certified safe materials. Secondly, it has smooth rounded surfaces with no sharp edges to injure your little one.
If you want a baby walker that will provide hours of fun and entertainment for your little one, all while boosting their independence, you can count on this toy to deliver.
Pros
✅ Doubles as toy storage
✅ Skid-resistant rubber ring protects your floor
✅ Broad base
✅ Adjustable weight
✅ Sturdy construction
Cons
X️ Takes a while to assemble
Learn More from BestToyLine: Best Place To Buy Kids Toys Online
See Also: Best Toys For Baby With Down Syndrome
Geyiie Baby Walker is the perfect toy for any baby who loves exploring, experimenting, and learning. It offers the perfect balance of fun and learning, making it a favorite among parents and babies alike.
This clever walker offers a balance of play and learning, with two modes: babysit and toddler stand. Hence, it is perfect for any little one who is just starting to get the hang of walking on their own.
In addition, it offers many activities for children while they grow and learn. For example, the activity center includes a ball game and spinning gears to foster motor skills. 
Plus, it has music and motion sensor sounds to keep babies entertained for hours. With an array of playful features, your little one will be engaged and learning within minutes.
The broader base means it will not topple over. Also, you can add items to the storage box to make it more stable.
The walker also includes wheels with good anti-skid wear resistance, making it ideal for use on carpet or hard floors.
With this walker, it is never too early to start that curious toddler on their way to taking their first step.
Pros
✅ Scientific design to avoid bow legs
✅ Anti-toppling design
✅ Adjustable speed
✅ Interactive activity center
✅ Storage compartment for heavy objects to improve stability
✅ Quite, non-slip rubber wheels
Cons
X️ The locks on the wheels are a bit stiff
Kids are excited to get outside and play. But what about all the work that needs to be done in the backyard, like cutting the grass? 
Instead of dragging your kids away from their fun for hours on end, there is an easy solution – a bubble machine!
JUMELLA Lawn Mower Bubble Machine is a must-have toy for any child who loves bubbles. This kid-sized bubble machine creates bubbles as it moves and also has a button that produces continuous bubbles up to 2000 per minute.
Even more fun is that it produces realistic sounds.
This bubble machine is perfect for backyard parties or just playing in your yard. Not only will your kid have fun with this toy, but you will also be able to handle the lawn work quicker and easier than ever before!
Like all of their products, it is designed especially for kids. The bubbles are non-irritating, and the mower comes in safe, durable materials. So, you do not have to worry about them getting over-excited and hurting themselves.
Whether you want to encourage your kids to be more active or simply make playtime more fun, this bubble machine will deliver.
Pros
✅ Encourages kids to participate in outdoor activities
✅ Safe and quality control
✅ Makes realistic mower sounds
✅ Comprehensive gift set for multiple kids
✅ Easy to assemble
Cons
X️ A little loud with no volume control
Ready to get your little one all gussied up in his or her best John Deere gear? The Gator Ways to Play 4-in-1 Walker has everything you need to get your child moving.
Gator is always ready to play! From a walker that grows with your child to a riding toy with an interactive steering wheel, this 4-in-1 walker will provide hours of entertainment for the youngest members of the household.
Also, the multifunctional design means you can find the best mode of play for your baby's current skill level! In addition, you can separate it into three different functional toys. Hence, multiple kids can play at once.
It also features an adjustable height seat so that it can grow with your child. Plus, the wide wheelbase ensures stability and prevents tipping.
This walker is built to last with durable materials that are tough enough for outdoor. It folds easily for storage and portability and has a machine-washable fabric for those inevitable spills.
Pros
✅ Three modes allow multiple kids to play at once
✅ Extra-wide base
✅ Interactive steering wheel panel
✅ Adjustable height
✅ Folds for storage
✅ Built-in food tray
Cons
X️ Batteries not included
The perfect gift for the little one in your life! This Tiny Steps 2-in-1 Infant & Baby Activity Walker is so much more than a walker – it is a toy, too! 
As a seated activity walker, children can easily push themselves around and take in the world around them. Then, when they are ready for more, the walk-behind function lets them take their first steps! This makes it an excellent gift idea and a fantastic addition to any nursery! 
The high foam back provides added support and comfort for both girls and boys. Plus, moms will not have to worry about safety with the skid-resistant pads on the base.
Babies will have fun developing their motor skills through batting play and spinning balls. Also, there is a mirror that creates interest and self-discovery.
The swivel wheels, too, are a nice touch. Unlike those in other walkers, it allows 360-degree maneuvers. Still, the wheels are lockable to keep the walker in one position.
You will love how easy it is to clean – just wipe down anything plastic! Plus, it folds flat for easy storage and can be taken with you when you travel away from home.
This walker is the perfect way to keep your little one entertained while being a supportive and comfortable place for them to sit.
Pros
✅ Seat pad for babies who cannot support their weight with their legs
✅ Adjustable seat height with high backrest
✅ Includes developmental activities
✅ Folds for storage
✅ Easy to clean
Cons
X️ Uses cheap plastic for the front wheels
Best toys to get baby walking – Buying Guide
When looking for good toys to help baby walk, you need to consider the following key criteria:
1. What toys will help my baby walk?
Push Toys
Is your baby not quite ready to walk or stand on its own? Well, a push toy is a right choice to give them support. 
As the baby teeters behind a push toy, it helps build balance, strength, and confidence. Well, these key ingredients will make them walk like a champion. 
Push Wagons
Just like push toys, push wagons to help babies build balance and confidence. However, unlike standard push toys, wagons also include space for toys, food, and even drinks. Also, they tend to have larger wheels for outdoor use.
Push and Pull Toys
Push and pull toys are a unique addition to help your baby learn to walk. Generally, push and pull toys are for babies who are more mobile with an active interest in exploring their surroundings.
Cart Toys
Pushing toy carts gives kids a sense of independence while developing gross motor skills and balance. Cart toys also inspire imagination as babies pretend to shop for groceries.
2. Age & weight limit
Ensure that the toys you buy are age-appropriate. It would not be wise to give a 6-month-old baby a toy meant for a 12-month-old toddler.
Also, to make the most of babyhood, it is crucial for parents to know what the baby needs most at this stage.
Also, keep an eye on the weight limit. After all, babies and toddlers tend to grow quickly.
Well, the good thing is that most toys to help babies learn to walk come with information regarding age and weight limit. So, before you place the order, take time to check first.
3. Stability
Babies like pushing and leaning on things. Hence, the best toy to help the baby walk should be stable enough for this type of activity.
After all, you do not want it falling on your baby as they try to pull themselves up.
Also, you need a sturdy toy that does not come apart or break easily when played with.
4. Height
A toy that is too high or too low can cause frustrations for your little one. When choosing a toy, the height should be at least 4 to 6 inches lower than the baby's height.
It will even be better to have an adjustable height that grows with your child.
5. Wheels
The wheels should have better traction to help prevent slipping. Also, check how hard or easy it is to push the wheels across your floor. Carpeted floors, for instance, will tend to offer more resistance than hardwood flooring.
Frequently Asked Questions
1. Do push toys help babies walk?
Push toys do help babies learn to walk in many ways. They not only help with walking but also improve strength and balance. Also, most push toys incorporate activities for fine motor skills.
2. When can babies use push toys?
When they can stand alone or walk while holding objects for support. This can be anywhere from 9-18 months.
Conclusion
There is a ton of stuff to look at when looking for a walking toy for toddlers. Just looking at them all on one list can make it seem a bit overwhelming.
This is why we put together a list of the best toys for toddlers that you can easily find online. By reading this guide, you can quickly and easily find the best toys for toddlers learning to walk.
Also, any time your baby is playing with a push or pull toy, ensure they are in an area free of stairs or any steps that could cause them to fall.
After all, they tend to easily get distracted by all the fun.