The best inflatable bounce house for toddlers should have an efficient blower to inflate and deflate the bouncer quickly.
Also, inflatable bounce houses for babies should show exceptional durability for an uninterrupted jumping experience and 100% safety for your kids.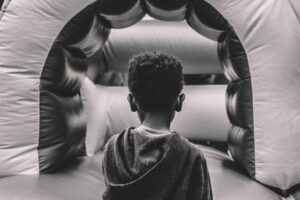 Whether you want to set up an inflatable bouncer in the kids' yard or indoor space, this article guides you into selecting the best inflatable bounce house for your child.
Inflatable bounce houses are many on the market, and finding the best one can be challenging, tedious, and confusing.
However, today's article compresses well-researched, refined, edited reviews to help you make the wisest decision.
But first…
Reviews for best inflatable bounce house for toddlers
INFLAPLAY Bounce House with a medieval castle design has a spacious 4.5ft x 5ft bounce area for up to 3 high-energy jumpers aged 3-10 years.
The top is open, and there is a 4-foot polypropylene mesh netting on all sides. Hence, kids can jump as high and as wild as they can in the safety of the bounce area.
But if jumping is not enough to burn energy, the bounce area also has a 4-foot climbing wall. It will push your toddler to their limits and work their muscle. 
Are you looking for something refreshing for the summer? This bounce house has your back with a 7.5-foot water slide that winds down to a 4.5 x 5.5 feet splash pool at the base.
And with a hose sprinkle, it will quench their thirst for a fun-filled day at the water park.
However, the pool area is not just for splashing. It also doubles as a ball pit for sensory play.
Toddlers who do not have the nerve to zip down the water slide can use the mini slide at the entrance. It has a low-profile design for safety and comes in handy to develop their sense of balance.
All impact areas (slides and bounce area) have heavy-duty vinyl. It meets the strictest standard to keep your kids safe and holds up to 250 pounds.
With a 450W waterproof blower, you do not have to wait for long to kick off the party. It inflates this bounce house in just 30 seconds. So now, you can spend less time setting up and more time having fun!
Pros
✅ A water slide and a fun slide in one product
✅ Includes water activities for a splash around fun
✅ Quadruple stitching for high-energy jumpers
✅ Inflates fast in 30 seconds
Cons
X The mini slide is pretty tiny
Learn More from BestToyLine: Best Indoor Bounce House For Toddlers 
The colorful printing and the French fries design will attract your kids' attention even before they set foot in this bounce house.
This bounce house offers multiple activities to keep your little ones active and busy.
Your kids can jump in the bounce area, climb up the 4-foot wall, and zip down the 8-foot slide to a 6 x 5 feet ball pit.
At 5 x 5 feet, the bounce area can hold 2-3 kids at once. Also, instead of a straight slide, this bounce house has a curved slide that makes the ride down seem longer.
The ball pit is also multifunctional. For instance, you can put water inside so your kids can have something to slash around all day.
This bounce castle has high rails on the slide and polypropylene mesh netting around the bounce area. Therefore, you can spend more time watching your kids and less time worrying about their safety.
Extra-thick tarpaulin material with double-stitched seams makes this bounce house strong enough to hold 300 pounds. In addition, it gives excellent UV protection for outdoor use and is easy to clean with soap and water.
Moreover, the package includes a 450W blower that fully inflates the bounce house in under 3 minutes. 
With an age range of 3-16 years, this bounce is ideal for kids of all ages, from toddlers to teens. So, more family members can join in the fun.
Pros
✅ Longer curved slide
✅ Large ball pit doubles as pool area
✅ Lab-tested for safety and compliance
Cons
X Only has mesh netting on two sides, which limits visibility
Little Tikes Jump 'n Slide Bouncer is not a feature-packed bounce house, at least not like the others on the list. Yet, it is our favorite and for valid reasons.
You see, most bounce houses for 3 kids have an average bounce area of 5 x 5 feet. Funny enough, Little Tikes Slide Bouncer holds the same number of kids but with a larger bounce area of 7 x 7 feet.
The almost double size means there is little chance kids will bump into each other, making it safer.
But it is not all the jump area that excels in size. At 6 feet, the slide is also twice as wide as those in most bounce houses. It is wide enough to allow up to two preschoolers to zip down at the same time.
Did you know that Little Tikes Jump 'n Slide Bouncer also has the safest blower on the market? This 450W heavy-duty blower has a fast-acting circuit breaker that cuts off the power in case of dangerous ground faults.
Moreover, it inflates incredibly fast in 20 seconds.
Little Tikes Slide Bouncer comes in heavy-duty polyester with double stitching. It is solid enough for high-energy jumpers, holds 250 pounds, and is resistant to wear and tear.
Another extra in this bounce house is the two mesh pockets. They provide space for shoes, encouraging kids to jump barefooted. 
The age range for this bounce house is 3-8 years, meaning it is safe for toddlers as well as grade-schoolers.
Pros
✅ More spacious than other bounce houses with the same capacity
✅ Heavy-duty, puncture-proof material
✅ Mesh pockets
✅ 360-degree view
✅ Inflates in 20 seconds
✅ Safest air blower
Cons
X Air blower is a bit noisy
Let your kids make this bounce house their royal palace for pretend play. They will love it even more once they discover how much this inflatable house has to offer.
One of the most significant selling points is the removable roof. It provides a place to cool off when the sun gets too hot.
At 500 pounds, Bounceland bounce house also tips the scale regarding the weight limit. Add that to an 8.5 x 7 feet bounce area; it can hold up to 5 kids aged 3-10 years in one go.
Your kids can sweat it out on the climbing wall, which leads to a 10-foot slide complete with high rails for safety. Not to mention, they can compete by taking shots on the integrated basketball hoop.
The bounce area is enclosed on all sides by heavy-duty polypropylene mesh netting for safety and better visibility.
But unlike in other bounce houses that have an open entry, the one in this bounce house can be closed by Velcro. Hence, there is no opening for toddlers to fall through.
The top of the slide, too, has a mesh cover for safety. But at the same time, it offers some degree of protection during hot days.
To support all the weight, this bounce house uses a 3-layer commercial-grade material. It comprises a polyester net sandwiched between two layers of PVC.
With double and quadruple stitching, it offers a puncture-proof and tear-resistant material.
Like the Little Tikes Slide Bouncer, this bounce house comes with a safe 450W UL-listed blower. It not only prevents electric shock but also inflates the bounce house in under 1 minute.
Pros
✅ Sunroof cover
✅ Much sturdier 
✅ Basketball hoop
✅ Taller mesh enclosure
✅ Bouncer can double as ball pit
✅ Safe UL-listed blower
Cons
X Cheap plastic stakes
Kids love unicorns as much as they love bouncing. With this bounce house, they do not have to choose. It offers both and more.
It has a unicorn head on one of the pillars. And with vibrant yellow, purple, and pink colors, it has all it takes to get their attention.
This inflatable house provides a 7 x 7 feet bounce area that holds 3 kids aged 3-10 years. It has a polypropylene mesh netting on three sides and a climbing wall where kids can channel their energy.
The wall leads to a 13-foot slide, the longest on our list. It is not only longer but also curves and drops down 7 feet for an adrenaline-filled experience.
With 100% puncture-proof nylon, this bounce house can stand up to all the jumping and sliding. Plus, it can support up to 250 pounds.
The package includes a 580W blower that inflates in under 2 minutes.
Pros
✅ Giant slide
✅ Puncture-proof nylon
✅ Colorful unicorn design
Cons
X The slide might require a mat or mattress for the landing
Sunny bouncy castle & slide combo lets your kids play like a king.
The giant castle has a spacious 12 x 10.5 feet jumping arena, large enough for up to 4 kids. And with 24-inch high mesh netting on all sides, it offers safety and an unobstructed view for kids up to 5 feet tall.
This bounce house has a Velcro door, just like the one in Bounceland inflatable house, instead of an open entry. Hence, you can toss in some plastic balls and turn them into a ball pit.
But there is even more fun to have in the bounce area. It has 3 built-in inflatable posts for your kids to jump and skip.
There is a low-profile ramp for entrance and exit. And of course, it also doubles as a slide for kids to zip down.
This bounce house uses heavy-duty puncture-proof nylon fabric. Plus, it has reinforced stitching to resist tearing while supporting weights of up to 400 pounds. Not to mention it has two mesh pockets where kids can keep their shoes.
Sunny & Fun Bounce House is for kids aged 3-10 years and includes a 450W air pump that inflates in under 2 minutes.
Pros
✅ Spacious bounce area
✅ Excellent weight limit
✅ Jumping castle doubles as a ball pit
✅ Includes obstacle column
✅ Mesh pockets
Cons
X Tiny slide
This inflatable bounce house offers more ways to play than traditional bounce houses. It is a 5-in-1 bounce house comprising a bounce castle, ball pit house, basketball hoop, dart target game, and a soccer goal.
The bounce area is 6 x 6 feet, large enough for a team of 3 kids. But it is not just a place for jumping. It also includes two obstacle columns to provide more challenge and an integrated basketball hoop complete with a basketball.
A door leads from the bounce area to the ball pit room. It comes complete with 50 plastic balls for sensory play and has two peep windows.
Also, another entrance allows you to access the ball pit room from the outside.
A 3-foot mini-slide doubles as an entry and exit ramp. And once outside, there is even more fun waiting. There is a dart target game on the mesh netting enclosure, complete with 3 dart balls.
In addition, there is a 6-foot soccer goal for those with a passion for football.
Two mesh pockets keep your kids' hands-free by providing a space for shoes and water bottles.
The vinyl fabric meets ASTM standards for safety, durability, and puncture resistance. It can hold up to all the jumping and supports up to 300 pounds.
The 450W blower, too, is ETL certified to prevent electric shock. Plus, it inflates the house quickly, making it ready for use in under 2 minutes.
Pros
✅ 5 activities in one bounce house
✅ Safe ETL certified air pump
✅ Puncture-resistant fabric meets ASTM standards
✅ Comes complete with balls
✅ Includes jumping obstacles for more challenge
Cons
X Too large for indoor use
Best inflatable bouncer for toddlers – Buying Guide
ASTM Certification
ASTM Certification heightens the assurance for safety and durability for a bounce house.
When an inflatable bounce house complies with all the ASTM standards, its components, including blower, structures, and accessories, conform to a high degree of build quality and come as a complete set. Also, no part can cause hazardous injuries when jumping on the bouncy castle.
Durability
Good inflatable bounces exhibit exceptional durability. UV-resistant bouncy castles excellently resist color fading and yellowing, which depreciate the aesthetic value of the bounce house.
Waterproof bouncy castles resist soaking by water, dew, and rainfall, making them ideal for outdoor use all year round. Also, waterproof bouncy castles make them easy to clean with soap and water.
High premium materials like polypropylene, polyvinyl, and polyester offer sturdiness and perfectly resist wearing and tearing.
High Power Blower
High power blowers over 300W offer a significantly faster time for inflation to make the setup quick and easy. High power blowers are also incredibly energy efficient, saving you on electricity or solar costs.
This way, you achieve a faster inflation time while using significantly less energy.
Safety Netting
The safety netting ensures additional safety for your toddlers, especially if they are many or are performing vigorous jumbos.
The critical issue here is safeguarding kids' falls, shielding them from injury, and creating a safety barrier that they can jumbo with confidence.
My Final Thoughts
INFLAPLAY Bounce House with Water Slide and AirMyFun Food Bouncy Castle is the best inflatable bounce house for toddlers.
These two inflatable bouncers exhibit top-notch durability, 100% safety, and additional interactiveness, such as a water pool, making them top-rated and perfect for your toddler.
Picking the best bouncer for toddlers requires that you look for ASTM certification, safety, durability, high power blower, and safety netting.